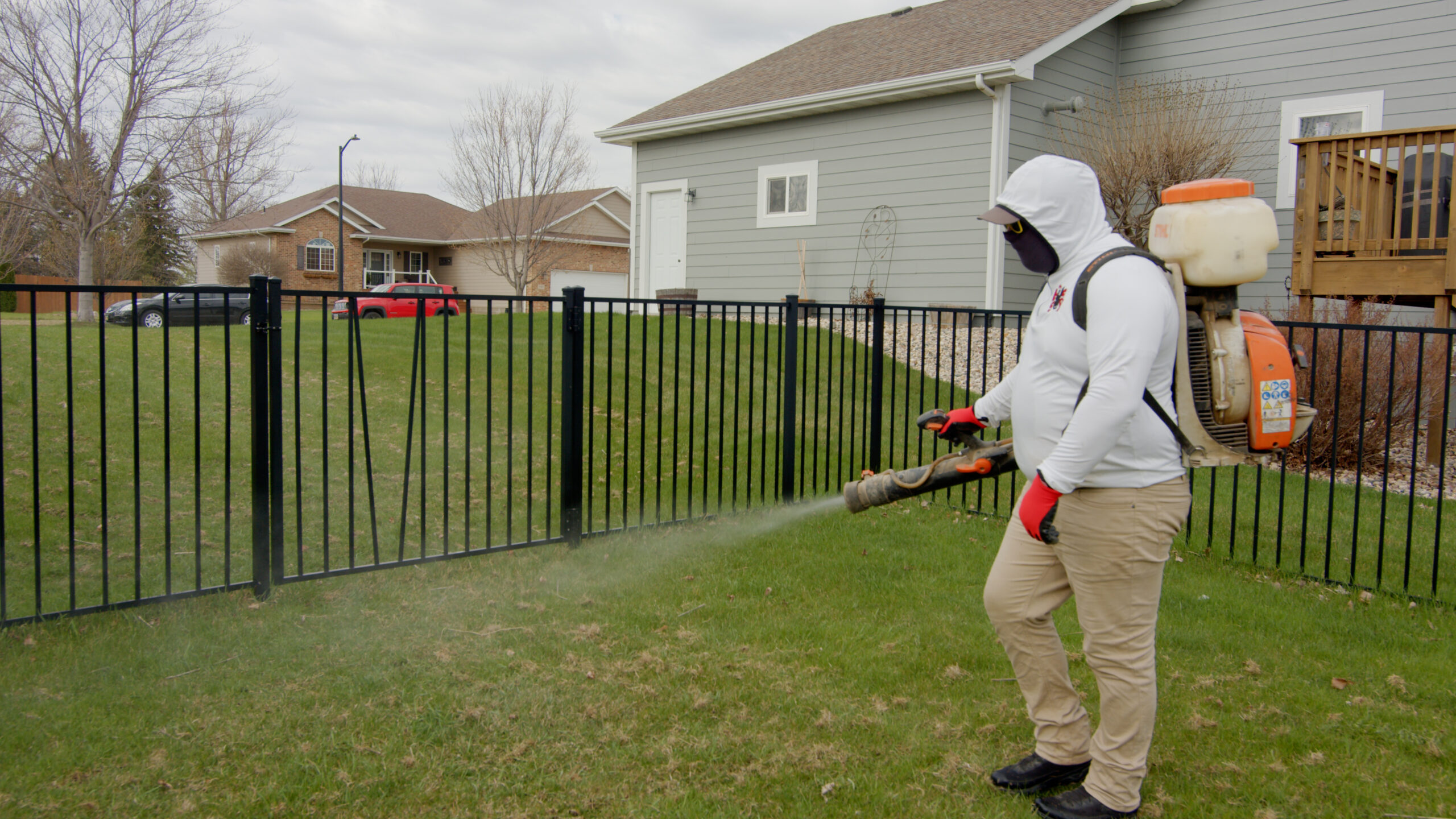 YARD PROTECTOR & MOSQUITO CONTROL
Lawn, Yard and Perimeter Mosquito, Tick, and Pest Control
30 Day Control against unwanted yard guests!
Guaranteed Results with regular 30 day treatments
Protect yourself from mosquitoes, gnats, and other pests for only $70 per treatment
• Our YARD PROTECTOR treatment kills mosquitoes, fleas and ticks immediately. The treatment stays on your foliage and continues to kill pests for 30 days.   Target pests are: mosquitoes, fleas, ticks, gnats and flies.  Target areas are: lawns, trees, shrubs, patios, decks, swimming pool perimeters, fences, and walls.
• The residual effect of our YARD PROTECTOR treatment will kill pests as they land on treated vegetation. It is possible for mosquitoes to come into a treated area if they have not landed on the vegetation yet. This is why The Bug Guy cannot offer 100% protection from insects on a lawn, but you will notice an enormous reduction of 90-95% of the mosquito and tick population.
• If you are not satisfied with the reduction, you can get a refund based on our 100% satisfaction guarantee.
• People and pets can safely return to the yard 10-15 minutes after treatment. 
• Rain and water should not affect the dried application.
• Our YARD PROTECTOR utilizes a combination of products to treat all types of residential and commercial areas. These same ingredients are safe for indoor areas including food preparation. It is non-toxic and safe to spray in many different areas including yards, where animals live, on flowers, for weddings, reunions, etc.
• Regularly scheduled (30 days) YARD PROTECTOR treatments protect your family and guests from Mosquitoes, Fleas and Ticks in your own outdoor living area for the entire season.
Additional Mosquito Solutions – In2Care:
• In 2023, we are adding the In2Care mosquito station to our services.  This station effectively attracts and kills mosquitoes with novel and green ingredients that target both larvae and adults.
• The stations are no bigger than a bucket and are made from durable recycled polypropylene. It consists of a bucket filled with water, a cover to stop the elements from getting in, and a biocide-treated gauze strip.
• We will place these in damp, shaded areas of vegetation because this is where mosquitoes tend to be located.
• In2Care is safe for pets and other animals because it is covered and only contains a biocide or fungus.
• How it works: 1) Mosquitoes are attracted to station ~ 2) Mosquito lands on floater gauze and picks up biocide where larvae are left and killed ~ 3) Mosquito flies out carrying bioactives ~ 4) Contaminates surrounding mosquito breeding cites with biocides ~ 5) Mosquito then dies within a few days reducing chance of catching disease
• Customers can add In2Care onto their Yard Protector treatments or try your favorite option by itself.
Take the first step to enjoying your summer outdoors by signing up for your YARD PROTECTOR treatments or try out our new In2Care Mosquito traps! For any other questions, contact us! (605) 695-9560,  Email: info@sdbugguy.com   Web: www.sdbugguy.com
Providing South Dakota with quality pest control solutions for nearly two decades.  Locally owned and operated. Fully Licensed, Insured, and Bonded.