Mosquito and Yard Pest Control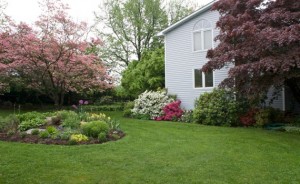 PROTECT YOURSELF FROM WEST NILE OR ZIKA VIRUS
Our "Yard Protector" program has received rave reviews from our customers in the past. In South Dakota our summers are short enough, so why lose valuable outdoor living time to mosquitoes and other yard pests.
Our YARD PROTECTOR barrier treatment kills mosquitoes, fleas and ticks immediately. The treatment stays on your foliage and continues to kill pests for 30 days. Target pests are: mosquitoes, fleas and ticks. Our service will also kill: Gnats, and Chiggers.
The residual effect of our YARD PROTECTOR barrier spray will kill pests as they feed or breed and kill pests from surrounding properties that stop to rest on your vegetation. It is possible that mosquitoes can come into your outdoor area and not land on a treated area and bite; however, mosquito population will be tremendously reduced.While THE BUY GUY cannot offer 100% protection from every mosquito, flea and tick, you should notice an enormous reduction of 85%-90% in the mosquito and tick population in your outdoor area. If you don't experience this reduction and are not satisfied, you will get a refund based on our 100% satisfaction guarantee pledge.
People and pets can safely return to the yard 20 minutes after treatment.
Rain and water should not affect the dried application.
There are no offensive odors or lingering residues.
No one is needed to be present at the time of the application of your YARD PROTECTOR treatment.
Our YARD PROTECTOR treatment utilizes a combination of broad spectrum products that control an array of pests that infest areas around the perimeter of residential and commercial buildings. Our treatment is non-toxic to humans, pets, or birds and can be used in outdoor seating areas, dog and children play areas, dog kennels, dog houses, horse barns and livestock areas. Also near birdbaths and bird feeders.
Target areas are: lawns, trees, shrubs, patios, decks, swimming pool perimeters, fences and walls.
Ticks are vectors of deadly diseases such as Rocky Mountain spotted fever and Lyme Disease. Heartworm is deadly to dogs and spread by mosquitoes. Mosquitoes, fleas and ticks spread blood borne diseases such as West Nile Virus, Lyme disease, Encephalitis, Dengue Fever and Malaria
Regularly scheduled (monthly) YARD PROTECTOR treatments protect your customers and employees from Mosquitoes, Fleas and Ticks in your own outdoor living area.
The YARD PROTECTOR Process:
Let THE BUG GUY know you would like to be protected from yard pests with our YARD PROTECTOR treatment.
Our fully licensed and certified Pest Technician will come to your location on the scheduled day (weather permitting).
A YARD PROTECTOR treatment will be completed, usually in ½ hour or less.
A courtesy notice of each completed treatment left at your front door.
Special events, weddings, family reunions and outdoor fairs and festival can have a YARD PROTECTOR treatment just prior to the event for the maximum protection. Take the first step to enjoying your summer outdoors and by signing up for your YARD PROTECTOR treatments! Special event treatments need to be scheduled at least a week in advance so we can get it completed a day or two before the event takes place!